GIA certified diamonds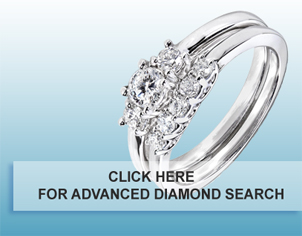 We all want to have the perfect engagement ring for our beloved. It's a once in a monumental event, when the two of you will vow for to be there with one another till eternity. Not just the design of the ring you chose is going to be important, the quality of diamonds will be equally detrimental. Not to forget that every diamond purchase is a serious financial investment, and therefore one should only go for certified ones.
Loose diamonds come in an array of shapes, colors, and cuts. Their value and quality is determined by the 4Cs of diamonds, which are Cut, Clarity, Color and Carat Weight. These are the characteristics that influence the appearance and cost of the diamonds. The better the clarity, cut, and color, and higher the carat weight of diamonds, the more expensive these are likely to be.
What is a GIA Certified Diamond?
GIA stands for Gemological Institute of America. It is the most common laboratory used for testing the standard of color, and clarity grade of diamonds. GIA certified ones are recognized by jewelers the world over for their quality and unparalleled standards.
Since there is a huge difference between certified ones and non-certified ones, if consumers would like to be assured of the quality and characteristics of diamonds, it is advisable to spend an extra blob of money on certified jewelry, than get bluffed by non-certified. GIA certification saves you from the many unscrupulous diamond sellers in the market.
It was GIA, which developed the concept of the four Cs of diamonds. Based on it becomes easier for any new jewelry purchaser to be assured that the price he is paying is worth and that the properties of the diamonds mentioned by the dealers are authentic. It is properties of the diamonds, which determine their price, and since GIA certified diamonds come with guarantee documents, chances of fraud are minimum.
There are many details and characteristics of diamonds, which are not visible to the naked eyes, but loose GIA certified diamonds will always indicate all such details for the convenience of the buyers. A 10x magnifier is used to look of any imperfections in the diamonds, if any. The certification provides an assurance of the quality and authenticity of the ornament. It also specifies that the price you pay for the jewelry is worth its features.
At Kobe Mark Diamonds, we mainly sell GIA certified loose diamonds, with each coming with an exclusive report on the grade, clarity, cut, depth, carat weight, etc. You can now buy certified diamonds from us, whether it is loose diamonds GIA certified, GIA certified rings, or any other type of certified jewelry. We are a reliable source that takes pride in selling to its customers only quality products that guarantee to deliver what they claim.
What does a GIA Certification Report Consist of?
Gemological Institute of America or simply GIA is the most renowned organization in this industry. Diamonds, which are GIA certified; come with a grading report that specifies the exact features of these you're going to purchase.
Diamond characteristics described in this report are measurement, carat weight, color grade, clarity grade, cut grade, finish (surface and placement), polish (smoothness), symmetry (alignment), fluorescence (color and strength of color), clarity plot (size, types, etc.), and a proportion diagram.
For more on GIA certified diamonds, setting styles, or any other questions you have, call us at (886)886-9920 or email us at Support@KobeMarkDiamonds.com. We'll be more than happy to answer all your questions, and help you in selecting the prefect jewelry.